The information is easily accessed today. Religion relies a lot on mystery. The demystification of religion by the Internet is the major factor. That's why someone like me living here in Nigeria can profess to be an atheist now. If this was in the 1990s, this would never happen. – The Ranting Atheist
METHODOLOGY
This work interrogates how and why Atheism has gained footing in Nigeria in spite of the formidable presence of Islam and Christianity. It also attempts to understand the role the two Abrahamic religions and clerics may have played in effecting the rise of Atheism in Nigeria. This work begins from year 2014 because it marked the first time an atheist came public in Nigeria in the twenty-first century, and terminating in the year 2021 when a Nigerian atheist podcast was launched across many podcast platforms.
This paper uses a qualitative method and historical approach to answer these two questions. Primary data are collected through oral interviews. An imam, a pastor and an atheist were the respondents, all of whom reside in the southern part of Nigeria. Additionally, secondary data for this work were derived from literature relating to the subject.
BACKGROUND TO THE STUDY
To pin the birth of atheism on a particular year is difficult. However, a peek into history reveals its wake to have happened following the Age of Enlightenment of the 17th and18th centuries. The World was more or less becoming interconnected during this Age as Europe began to emerge as the dominant force in international trade and mercantile capitalism. Not without influences from the rest of the world, the Age flourished with the renaissance of Greco-Roman traditions, from which came liberal thoughts embodying humanism, secularism, state supremacy, and modern ideals such as liberty, representative democracy, toleration, and separation of church and state etc., all becoming a trend after centuries of tyranny from monarchies and the Church. Pointing out the spectacle religion had in the Enlightenment, William Bristow (2017) notes in an article that "controversy regarding the truth-value or reasonableness of religious belief in general, Christian belief in particular, and controversy regarding the proper place of religion in society, occupies a particularly central place in the Enlightenment."
No doubt, the spread of liberal thoughts caused critical gaze to fall on religion- Christianity- which played a fundamental role in the making of Europe. The advent of Industrial Revolution would have most impact on Europe and later the world. It produced a domino effect on subsequent industrial revolutions including what is now known as Technological Revolution. From the latter would emerge the Age of Information we are in. The advent of the Internet particularly would pave a new dimension. As argued in an article on how three media revolutions transformed the history of Atheism, it is noted that "In the early 2000s, the internet was a major factor in explaining the success of [.] Atheism. Even if [.] Atheists like Richard Dawkins or Christopher Hitchens published in traditional print mediums, their debates with Christians, and other religious people, received millions of views on YouTube." Organizing and transmitting debates on Religion and Atheism through television, radio and later the Internet, became prevalent.
'God Delusion,' a book by Richard Dawkins became renowned globally for aiming for the head of religion. Did it succeed? It promptly awoke the world to the fact that there were those who refused to identify as adherents of any religion.
With the rise of celebrity atheists such as Christopher Hitchens, Sam Harris and Richard Dawkins to mention a few, it seemed identifying publicly as Atheist was set loose on the rest of the world. And because this new millennia was the advent of technological revolution, Atheism spread to other parts of the world as long as the destination had Internet and unrestricted access to online contents. The Western effect on the global rise of Atheism is hardly contested. This is not to say that elsewhere local effects did not play a role in the rise of Atheism.
RELIGIOUS DEVELOPMENT IN NIGERIA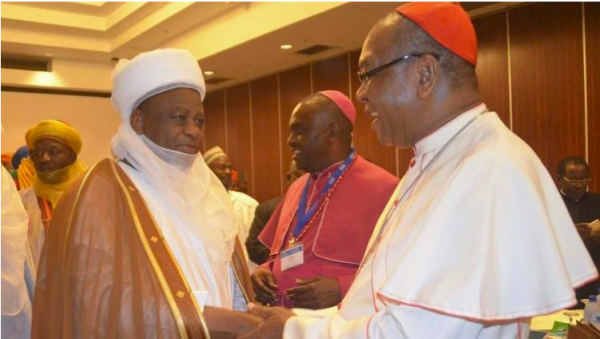 Popular with Nigeria has been religion, particularly Islam and Christianity which have weakened indigenous spiritual systems. To be called a Nigerian today is to be second-guessed as religious. To therefore be identified as Atheist in such a religious country is to be ready to be ostracized, imprisoned or lynched, depending on the geographical location.
Background to the emergence of Atheism in twenty-first century Nigeria includes socio-economic factors such as the advent of Internet, social media platforms, excess religiosity, and the blurry lines between politics and religion etc. The failure of Nigerian government to create, work out and sustain an enabling and equitable society has also prepared the ground for religious institutions to prosper beyond their duty of simply providing spiritual comfort for the frustrations of everyday living of Nigerians. In other words, it has given religion and clerics a great opportunity to direct the thinking of Nigerians further to the skies; hence, providing religion with more avenue to consolidate its frontiers at the expense of state supremacy. This has put Nigeria on the brink of internal Jihād/Crusade, especially in the North where religious extremism has emboldened. In such a religious atmosphere, atheism would function, as Aljazeera (2018) reports, as "a largely underground movement."
THE COMING OF ABRAHAMIC RELIGIONS
Prior to the colonial process of Nigeria from 1861 onwards, it is important to state that Islam had found its way to pre-northern part of Nigeria between, as Palmer (1928) as cited in Adeleke (2005) notes, "c.1349-1385." The Fulani Jihad of 1804 would fervently replace syncretic Islam with pure Islam in the North, while mission Christianity, through the efforts of Church Missionary Society, was introduced to the southern half of Nigeria in the 1840s.
Traditional religions suffered greatly when the two Abrahamic religions arrived. The latter, being world religions, determined to establish an atmospheric presence in tune with Islamic and Christian tenets. Mosques, Qur'anic schools, churches and mission schools would flourish greatly as traditional religions waned. Apparently, the development of Nigeria as a modern state cannot be isolated from the intersections of Islam and Christianity since their fervent arrival in the nineteenth century. Describing the complex conditions of modern Nigeria's political and socio-religious society, Olufemi (a Nigerian scholar working on religion and its fundamental role in the making of Nigeria) profoundly puts
Nigeria's varied communities' encounters with these world religious movements have been pivotal to creating tapestries that reflect dialectical tensions between tradition and modernity, local and global, national and transnational, since the turbulent nineteenth century. At various stages of Nigeria's political history, these complicated religious forces have evolved in multilayered local, national, and transnational contexts. Their dynamic manifestations have influenced power configurations in a colonial context, shaped power relations during decolonization, helped mold Nigeria's problematic postcolonial nation-state, and responded to the forces of globalism at the turn of the twenty-first century (Vaughan, 2016, p.224).
How far atheism would go in such a complex religious terrain as Nigeria is unclear. Perhaps in a centuries' time, perhaps a thousand years' time or more, atheism would gain much ground. But, in the foreseeable future, chances are slim.
NIGERIA'S RELIGIOSITY
With the two world religions being agents of religious universalism, reducing traditional religions to scanty influence was only natural given their border-crossing strength. Indeed, Nigeria was bound to develop complex socio-cultural conditions and identities. It is in recognizing these dialectics in the making of modern Nigeria that Vaughan again explains that
The critical foundation in the making of modern Nigeria was constructed on the convergence of two monumental world religious movements that transformed the Nigerian region, starting in the nineteenth century. These were the celebrated Islamic reformist movement that established the Sokoto Caliphate in the Hausa region of Northern Nigeria and a Christian evangelical missionary movement that gave impetus to the social transformation of coastal southwest Nigeria, beginning in the second half of the nineteenth century. Although shaped by regional and global forces, these religious movements had enduring consequences for the diverse peoples of the Nigerian region because they were also products of the internal dynamics among the local communities that would later constitute the modern Nigerian state and society (Vaughan, 2016, p.13).
To therefore understand Nigeria, it is imperative to see it through the prism of the two world religions.
Nigerians love religion so much that to be trusted with civic duty, one might need to identify with either of the two religions (Islam, Christianity). This is why Nigeria is considered, as Olu Fasan opines, a "deeply religious country." But, he adds, "its religiosity is shallow; it does not conform with biblical principles." Similarly, the three respondents to this project concur that Nigeria is a religious country; however they differ slightly in their description. Alfa Aliy Tijani, a Muslim cleric agrees that "Nigeria is religious. To practise that religion that we claim to believe in is the problem. We claim to be religious but the light that the religion is teaching we don't implement. To me, we claim to be religious, but we are not. Islam is belief of the heart, and also something that we do. Not only by declaring that I'm a Muslim or believing in the heart, you also have to do things to show that you believe." Differing a little from this, The Ranting Atheist, now without any religious identity, observes that in Nigeria "We breathe, we eat, sleep, drink, defaecate religion. God is in everything everywhere you go. You are assumed to be a religious person by default. I hear people say that it is not possible for an atheist to exist in Nigeria. The religiosity is so concentrated that people have become [.] lazy. Instead of trying to make yourself more qualified, you are going to church, praying, fasting […] for God to make a way for your job. But you have not done what you need to do to qualify or even overqualify for the job you want. Some don't even submit their CVs at all and expect a call out of the blue…The state of our country is more than enough that this God does not do anything if it exists. The state of our country is getting worse year after year. Instead of taking action, people pray." Pastor Olawale Smith, a Christian cleric, also agrees that Nigeria is a religious country. Meanwhile, he explains, "There is a difference between religion and spirituality. Religion lay out sets of codes, but spirituality is about relationship with God."
THE RISE OF ATHEISM IN NIGERIA
From mosques' speakers, one would hear in a while kafir– a term for non-Muslims. Similarly, churches assume non-Christians to be unbelievers.
"Believers! Do not take the Jews and Christians for your allies. They are the allies of each other. And among you he who takes them for allies, shall be regarded as one of them. Allah does not guide the wrong doers." Qur'an 5:51 (Translation by Abul Ala Maududi)

"Be ye not unequally yoked together with unbelievers: for what fellowship hath righteousness with unrighteousness? And what communion hath light with darkness?" 2 Corinthians 6:14 (King James Version)
The above are religious verses supporting their stances. In such a dialectical society, questions are bound to be asked by inquisitive believers of both religions who all share the same community. And when questions are dismissed as ridiculous or as questioning the word of Allah/God, alternatives are sought.
From the interviews, the Internet towers as the alternative to answering their pressing questions. For instance, from the interview with The Ranting Atheist, a podcast platform and pseudonym of the host, he narrated how disturbed he was when he could not get answers to why God, the master of the universe, would concern himself with something so petty such as killing Onam because he spilled his seed on the ground. He claimed that a YouTube channel brought his awareness to this biblical incident, contributing to the process of his becoming atheist. He went further to emphasize that the Internet was very key. "Information is easily accessed today. Religion relies a lot on mystery. The demystification of religion by the Internet is the major factor. That's why someone like me living here in Nigeria can profess to be an atheist now. If this was in the 1990s, this would never happen," he says. Ending on a final note, he reiterated that "the vast resources that opened my eyes were on the Internet." He even suggested that someone should start writing a blog on religion in Nigeria.
Alfa Aliy Tijani– a Muslim who also works as Imam- agreed that the Internet could have played a role in the rise of Atheism. He recalled that it was on the Internet he first came across an Atheist- Sandhguru. In fact, he asserts that "If not for the Internet, I would not have known that Atheists do exist." Asked if he had come across a Nigerian Atheist, he answered in the negative. Attesting to this further is Pastor Smith who said that the Internet might have played a role. But he conceded he had not met any Atheist.Them having not met any Atheist in Nigeria attests to the underground feature of Atheism and its insignificant population.
It's important to note that a North-South divide holds strong in Nigeria. How long Atheism survives would depend on it. The divide is an imaginary line between the Northern part and the Southern part of Nigeria. Culture, religion, ethnicity, Western-style development varies on both sides of the country. In the North, Islam dominates, with Christianity and other religious identities as minority. In the South, Christianity dominates, with Islam and other religious identities as minority.Situating Atheism and the consequences that follow those who identify publicly with it-on both sides of the divide- reveals divergent realities.
In the interviews, the respondents affirm that the northern part of Nigeria is far behind the southern part in terms of exposure to modernity. Talking about the consequences of going public as atheist, The Ranting Atheist stressed that it depended on where your geographical location was in Nigeria. He explains, "In the South, the consequences are not as bad as those in the North, as you can see with Mubarak Bala in prison. In fact, your situation might be like that of Deborah who was a Christian. You could get killed in the North. There are people who have told me that if their family should know, they would be killed. For people in the South, the key thing is your financial leverage. If you are someone who is dependent on your parents, your family, you will need to bite your tongue, you will need to be quiet, you will need to sing praises to Almighty God, and shut up when you are among them." Physical persecution and death are therefore characteristic of the North's reaction to Atheists, but to those who would want to go public as atheists in the South, he warns "Be ready to lose friends, relationships because there are people who would never want to be in relationships with an atheist."
The Cable (2022) reported that Deborah Emmanuel, a Christian was stoned to death and burnt because she blasphemed against the name of Prophet Muhammed (S.A.W.) in a WhatsApp group chat. Asked if the same thing could have been meted out to her in the South, the Muslim cleric answered in the negative. He questioned where her murderers got their authority from and condemned the act as jungle justice. Though what she said, Alfa Aliy Tijani continues, "If it were to be in an Islamic country like Saudi Arabia, she would be asked if she knew the extent of what she was saying. Do you know the punishment for what you are saying? If she answered in the affirmative, then taking her life would be lawful under the tenets of Shar'iā upheld by Islamic government in an Islamic country." He would indicate patience and tolerance to be characteristic of the South more than the North.
Before Deborah's case, the North's fierce intolerance for unbelief was the imprisonment of Bala Mubarak, President of Humanist Association of Nigeria, who renounced Islam in 2014, and who is believed to be the first atheist arrested in Nigeria for blasphemy. Manner of reactions to Atheism and atheists are therefore different in the light of the North-South divide.
There's no stopping the tide it seems. Atheism has sprouted; to crush it is to risk being labelled fanatics. To even go as far as banning the Internet would equally be considered fanatical. And if Atheism is to germinate more, as discussed above, the southern part of Nigeria may be the ready-place. However, this is not to say that it would receive a triumphal entry in the South; to a large extent, Atheism may be allowed to survive as long as it stays within a mere fraction of the population, and in as much as it remains an underground movement.
CONCLUSION
Religion has a set of beliefs and doctrines it abides by, and as a result, there are boundaries to its tolerance for inquisition. When some believers then begin asking critical questions, they are considered crossing limits, and because clerics dismiss their pressing questions as losing faith in Allah/God, it is no surprise that those who are courageous enough ask the Internet. Courageous because such step introduces the inquisitive believer to large resources of knowledge; some historical, some philosophical, some simply conspiracy theories, and also some social media platforms such as Twitter, Clubhouse, Reddit etc. where communities of individuals who share their inquisitive adventure converge, and so on.
Atheism, while it disregards religion and religiosity, still recognizes the strong place religion would have in the society. The Ranting Atheist would wish for a less religious Nigerian society- a proper secular state. Interestingly, he too admitted that religion could not be extinct. Meanwhile, he insisted on wanting a secular world where everybody could practice their religion peacefully.
Atheism and the Internet are border-crossing idea and instrument respectively. The latter fuels the spread of the former; thus, both are part of global historical process and thinking from which Nigeria's technosphere could not disembark itself. So, evident from the above is the border-crossing character of the Internet which queues among global byproducts cementing the interconnectivity of the globe despite the fact that local events sometimes may seem isolated from happenings around the world.
BIBLIOGRAPHY
Abdullahi, M. (2022). Deborah Emmanuel, Sokoto Student Killed for Alleged Blasphemy Buried amidst Tears, The Cable. Retrieved from https://www.thecable.ng/deborah-samuel-sokoto-student-killed-for-alleged-blasphemy-buried-amid-tears/amp on July 13, 2022
Adelakun, A. (2013). 'No country for Nigerian 'unbelievers', The Punch. Retrieved from https://web.archive.org/web/20131217051606/http://www.punchng.com/politics/no-country-for-nigerian-unbelievers/ on March 3, 2022
Adeleke A. (2005). Islam and Hausa Culture. Lagos Historical review 5(1), 99-110. Retrieved from https://www.researchgate.net/publication/265186663_Islam_and_Hausa_Culture on July 13, 2022.
Alhassan, I. (2018). 'God of Colonization', The Republic. Retrieved from https://republic.com.ng/aprilmay-2018/the-god-of-colonization/ on March 3, 2022
Bristow, W. (2017). Enlightenment, Stanford Encyclopedia of Philosophy. Retrieved from https://plato.stanford.edu/entries/enlightenment/#RelEnl on July 13, 2022.
Campbell, J. (2011). Nigeria: Dancing on the Brink. Plymouth: Rowman And Littlefield Publishers.
Campbell, J. (2020). 'Nigerian Atheist Arrested and Disappeared,' Council of Foreign Relations. Retrieved from https://www.cfr.org/blog/nigerian-atheist-arrested-and-disappeared on March 3, 2022
Dawkins, R. (2006). The God Delusion. London: Bantam Press.
Fasan, O. (2018). Weber's Puzzle: Why is Nigeria so Religious, yet so Poor? LSE Firoz Lalji Institute for Africa. Retrieved from https://blogs.lse.ac.uk/africaatlse/2018/08/23/webers-puzzle-why-is-nigeria-so-religious-yet-so-poor/ on July 13, 2022
How Three Media Revolutions Transformed the History of Atheism. Retrieved from https://freethinker.co.uk/2022/04/how-three-media-revolutions-transformed-the-history-of-atheism/ on April 10, 2022.
Ifeanyi V. (2017). Practical Atheism: A Problem of Faith in Nigeria. Ministerium- A Journal of Contextual Theology 3(1), 89-110. Retrieved from https://ezenwaohaetorc.org/journals/index.php/Ministerium/article/download/649/611 on April 10, 2022.
McLean, R. (2020). 'Outspoken Atheist, Arrested in Nigeria for Blasphemy, Hasn't Been Seen Since,' New York Times. Retrieved from https://www.nytimes.com/2020/08/25/world/africa/nigeria-blasphemy-atheist-islam.html on March 3, 2022
Oduah, C. (2018). 'Nigeria's undercover atheists: In their words', Aljazeera. Retrieved from https://www.aljazeera.com/features/2018/9/18/nigerias-undercover-atheists-in-their-words on March 3, 2022
Offiong E.E., Ekpo, E.C. (2020) Nigeria: The Paradox of A Secular State. Journal of Politics and Religion 14(1), 149-172. Retrieved from https://www.politicsandreligionjournal.com/index.php/prj/article/view/359 on April 10, 2022.
Oputa Panel. (2001). "My Son Is A Member of Pyrates Confraternity", "I am neither Christian nor Muslim." Retrieved from https://www.youtube.com/watch?v=TZd479iVVR8 on March 3, 2022
The Ranting Atheist. (2021). https://www.podpage.com/TRAtheist/
Vaughan, O. (2016). Religion and the Making of Nigeria. Durham, NC: Duke University Press.
Interviewees and details
The Ranting Atheist, a Nigerian Atheist podcast, Nigeria. (Name of host unknown)
Alfa Aliy Abu Abdullah, Ibadan, Nigeria. (A Muslim, who works as Imam during Ramadan)
Pastor Oladele Smith, Lagos, Nigeria. (A Christian who is affiliated with the Redeemed Christian Church of God, Nigeria)