Thirty years of political conflicts in Sudan gave rise to the new African nation South Sudan. Even after the independence of the country, the two countries continued to have wars within their territories. South Sudan had wars between the government and the rebel group known as Sudanese People's Liberation Movement In Opposition (SPLAIO). Likewise, in the Sudan there were wars of freedom in the regions of Nuba Mountains, Blue Nile and Darfur states. These wars have forced millions of people to flee their countries to seek for refuge in the neighboring countries, that is to say Uganda, Kenya, Ethiopia, Egypt, Chad etc.
The wars destabilized all the activities and the development of all the institutions. These conflicts made the distributions of basic needs and social services to come to an end. For example, all educational institutions closed, as are hospitals; shelter has been destroyed; people stay in caves for survival; there is no clean water for human consumption; the weather is harsh and unfriendly (too much rain). So many people come to Uganda to look for shelter, find their social needs, and get better education for themselves and for their children. Some of the Sudanese and South Sudanese had come to Uganda before the wars many people in this category came in search of better education in Uganda so that when they go back to their countries, they can introduce a new and unique methods of educating the young generation of Sudan. Kola James, a 15-year-old south Sudanese a refugee in Kiryandongo Refugee settlement, in his own words said,
"I came here to Uganda before the wars in South Sudan. My parents brought us here to get the best of the education because the education in my country is not to the standard after all the schools in my country taught in Ugandan Syllabus yet the teachers there didn't study in this system. So, coming to Uganda was the best option for my parents. In my plan, I want to get this kind of education system right from the source so that I can be better teacher in those schools which still teach this very Ugandan system back in my country."
The relationship between education and national citizenship is well-established: schools serve as a primary institution where students become citizens, learning state-sanctioned versions of their national history. The relationship between education and citizenship in the refugee settlement is less studied, perhaps because education in refugee camps is often seen as away to secure resettlement opportunities, not as something that links refugee with both host country and home country. This paper, drawing on oral history interviews with South Sudanese and Sudanese living in Kiryandongo Refugee Settlement in Uganda, shows the ways that the Ugandan educational system has been both a pull factor for Sudanese refugees seeking safety, and understood as a way for returnees to make important contributions to civic life and peace once repatriated to Sudan and South Sudan.
Someone may ask him or herself how does the education in Uganda have an impact on the refugees, in their communities and even when they get back to their respective nations? In some parts in Sudan, the Nuba Mountains, for example, girl child education received no consideration at all. Despite of the heavy wars in the region, the girl child is still not giving a chance to go to school like boys. Girls are to be trained on how to keep homes and care for husbands in future. A girl is only respected and considered to very good if she is very hard working at home, goes to farm every day, helps her family with house work and some times when she cares for her siblings. Even those girls who got educated in other parts of Sudan, didn't want to come back to change the negativity of the community's reception on the girl child education. As Kaka Sarafina Sabri an 18-year-old female Sudanese student a refugee in Kiryandongo Refugee Settlement said,
"In my community, girls are discouraged to go to schools by their parents, uncle and other clan members. We are looked at like it a waste of time and resource if we go to school. We as girls, school is not good for us because the community has a belief that we are not wise, and even though a girl is educated, she is supposed to get married early and the community consider that as a pride of the family. My parent looked at that belief as not good and my father brought me and my siblings to Uganda, here in Uganda, I went to school and at school I saw so many young girls like me are at school that had given me a big motivation to study hard to become a role model to other female NUBA community both here and back in my country. Am now glad that we formed a young Nuba Women group which is comprised of all the Nuba female students in Uganda to advocate for the positive change in our community."
The refugees who got the chance to study in Uganda, they have understood that education is the key to success, not marriage, most especially the girls. The refugees who got chance to go to school in Uganda, they are trying as hard as possible to complete their schooling  so that they can help their communities to come out of that negative understanding of girl child education and promote the female person as equally important as the male person. On the other hand, these girls are facing so many challenges which are pulling them behind. For example, some of these students are finding it had to pay their tuition when they reach the higher levels of education.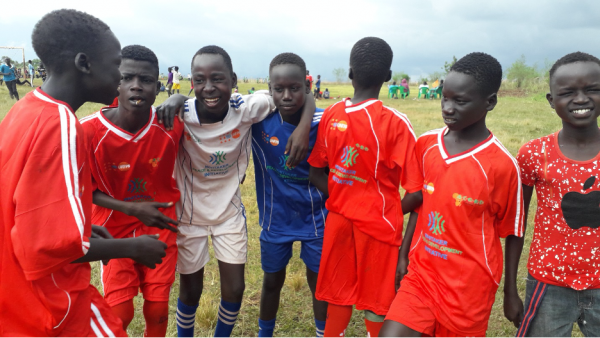 The refugees in Kiryandongo Settlement are experiencing the difference between the education in their countries and in Uganda. The education system of Uganda has covered almost all the parts of learning aspects, including outside the classroom leaning activities. The peace-building and conflict resolution education is very effective in all the schools which has impacted the lives of the refugees both in their homes and in their communities. Peace- building activities like sports (marathon for peace, football peace cups, volleyball, basketball) have been introduced because sports have the larger number of the youth who are the target group in the community. There are more peace educating activities like theater for peace, school peace clubs and radio shows on peace programs. Tribal conflicts, which were a big problem back in South Sudan that was subsequently imported here to Uganda, have gradually been reduced. Now there is no more tribal violence unlike the past where tribes could even refuse to share public places. Whenever they met, they would fight to death. A South Sudanese Nuer male student in Kiryandongo Refugee Settlement in an interview said,
"Some of my family members are been killed by the Dinka armed men back in South Sudan. Not only my family members, but also the whole community where I came from. They killed so many people and burnt the houses because the rebel leader comes from our tribe and most of his fighters are Nuer therefore al the Nuer tribe will automatically become rebel that is why the Dinka attacked us. My tribe have made a promise that they will pay back and they will kill and burn like what the Dinka tribe did to them. The Nuer community who got the chance they did it the rest of the clans are still planning to and my clan is part of the clans that did not take the pay back. I wanted to go back and take my revenge after completing my education in Uganda but now I am becoming to understand something which is very important to all the South Sudanese. School has changed my way of thinking which has helped me to understand that not all the Dinka tribe are bad and not all of them killed my family and the most important thing I learnt from my peace building and conflict resolution class is "blood can't wash blood." This has helped me learn how to forgive the rest of the innocent Dinka tribe who are not part of the violence back in South Sudan. I am glad that our mindset has changed and the two tribes today do a lot of things together as South Sudanese not as Dinka and Nuer. For example, in my football team, we come from different tribes, communities and even nationalities. We speak one common language which is English and we work so hard together as a team and that is a very big achievement to me and the community I am in. To me, I want this same program should be transformed to my country so that the people of South Sudan should learn how to promote peace and live together as one people. I am going to request my leaders to learn this peace building program so that we can easily transform our community's negative perception."
This is clear implication that most of the people the community have benefited from the education of Uganda and they are ready to bring about a positive change to the community here in the refugee settlement and also when they go back to their home nations.
It is a different thing when someone studies in Sudan from that of Uganda. In some parts of the Sudan, schools only can afford to teach student how to read and write but no other subjects like mathematics, biology, physics, and other subjects of professionality. In Sudan, schools are often just to keep the children busy, and only help them on how to be able to write their names and know how to count figures and when you are fine with that, then you become a teacher of others. In my research I found out that in some parts of Sudan and South Sudan, there is no chance for any one who want to for example, become a doctor, an engineer, or a pilot. That can never happen because there are no schools which teach that. Not only that, but also there are no teachers or facilities to support these kinds of learning. For example, all the schools in some parts of Nuba Mountains Sudan stop at primary 5, and they don't teach same system. Other schools teach the Kenyan system, others the Ugandan system, while others teach the country system, which is Arabic. That is a very confusing learning environment for young people who want to be tomorrow's stake holders. For anyone who wants to really be educated, it is possible benefit anything from that kind of education system. Because it can't help to provide a career and it won't help students to achieve a profession in the future. There are no secondary schools, universities or even colleges. That is why some able people who crossed the boarders to access better education than that of their country. Opoka Peter, a South Sudanese man in Kiryandongo, said,
"In my country South Sudan, we didn't have definite syllabus because the country has no syllabus of its own by then that why I come to Uganda to go to school. It was so bad news at that time during the wars when our teachers had to take an active part to fight the Khartoum government which has resulted no schools at all. I had no choice but to join the rebel group of Dr. Greng that was in 1995. By then I was a kid and too young to go to the army. I was picked and brought to the refugee settlement in 1996 then I joined school in Masindi "BLESSED DAMIAN". I studied and completed my primary and secondary levels in that school. After which I joined the university and I be come a teacher here in Uganda. I thought of going back and teach there in South Sudan, but the ware had broken again that is why couldn't make back to Sudan but hopefully I will in the future."
Though the education system of Uganda is different than that of Sudan and South Sudan, the majority of the refugees who came to Uganda have benefited from the powerful, peaceful and rich learning environment of Uganda's system. This education system gave them support for their mental devolvement to understand and analyze matters and how to handle and solve conflicts among themselves and the communities. The peace building programs and activities helped the many communities to embrace the value of togetherness and love for each other. For those who got the education system and went back, are trying their level best to change the mentality of the old version of the hatred for each other and to stop the ruthless killings caused by ethnicity in South Sudan and the political wars in Sudan. Peace is what every young one here is wishing for and dreams of having. Going back and helping  their venerable communities is what most of the Sudanese and South Sudanese are hoping for.